Pied Piper
Season 2, Episode 19
Air date
August 16, 2010
Episode guide
Previous
Headlock
Next
Exposed
The episode "Pied Piper" is the nineteen episode of Season 2. The episode originally aired in the U.S on August 16, 2010 on the FOX network.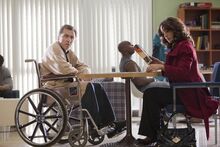 Cal and Zoe are about to witness the execution of convicted kidnapper and murderer Jason Wilkie, when Wilkie proclaims his innocence, saying that the Pied Piper kidnapped his victim, a boy named Rex. Cal believes Wilkie, tries to get a stay of execution, but fails.
Cal fears that they sent an innocent man to his death and starts to investigate. Events begin to unfold as they did before when phone calls taunting the family of the murder victim start the day after the execution, followed by a new abduction.
As Lightman works to find the truth two members of his team contemplate leaving before Lightmans' mistake brings them all down.